Experts in Bathroom Remodeling
Transforming your bathroom into a beautiful and functional space is our specialty. With our expertise in bathroom renovations, we aim to provide you with the highest quality craftsmanship and outstanding customer service. Whether you're looking to update a small powder room or completely revamp your master bathroom, we have the skills and experience to bring your vision to life.
Our Services
Design Consultation:
Our team of experienced designers will work closely with you to understand your preferences, lifestyle, and budget. We'll help you choose the perfect layout, fixtures, materials, and color schemes to create a bathroom that reflects your personal style.
Full Bathroom Remodeling:
We offer comprehensive bathroom remodeling services that cover every aspect of the project. From demolition and plumbing to electrical work and tiling, we handle it all. Our skilled craftsmen pay meticulous attention to detail to ensure a seamless and flawless finish.
Fixture and Fitting Upgrades:
If you're looking to update specific elements of your bathroom, such as replacing outdated fixtures or upgrading your shower, bathtub, or vanity, we can help. We offer a wide selection of high-quality fixtures and fittings to suit every taste and budget.
Flooring and Tile Work:
Enhance the aesthetic appeal of your bathroom with stunning flooring and tile work. Whether you prefer classic ceramic tiles, modern porcelain, or luxurious natural stone, we have a variety of options to choose from. Our experts will install your chosen flooring and tiles with precision and care.
Lighting and Ventilation:
Proper lighting and ventilation are essential for creating a comfortable and functional bathroom. We can assist you in selecting the right lighting fixtures and ventilation systems that not only enhance the ambiance but also improve energy efficiency and air circulation.
Accessibility Modifications:
If you or a loved one requires an accessible bathroom, we offer specialized remodeling services to make your bathroom safe and convenient. From installing grab bars and ramps to designing wheelchair-accessible showers, we'll ensure that your bathroom meets your specific accessibility needs.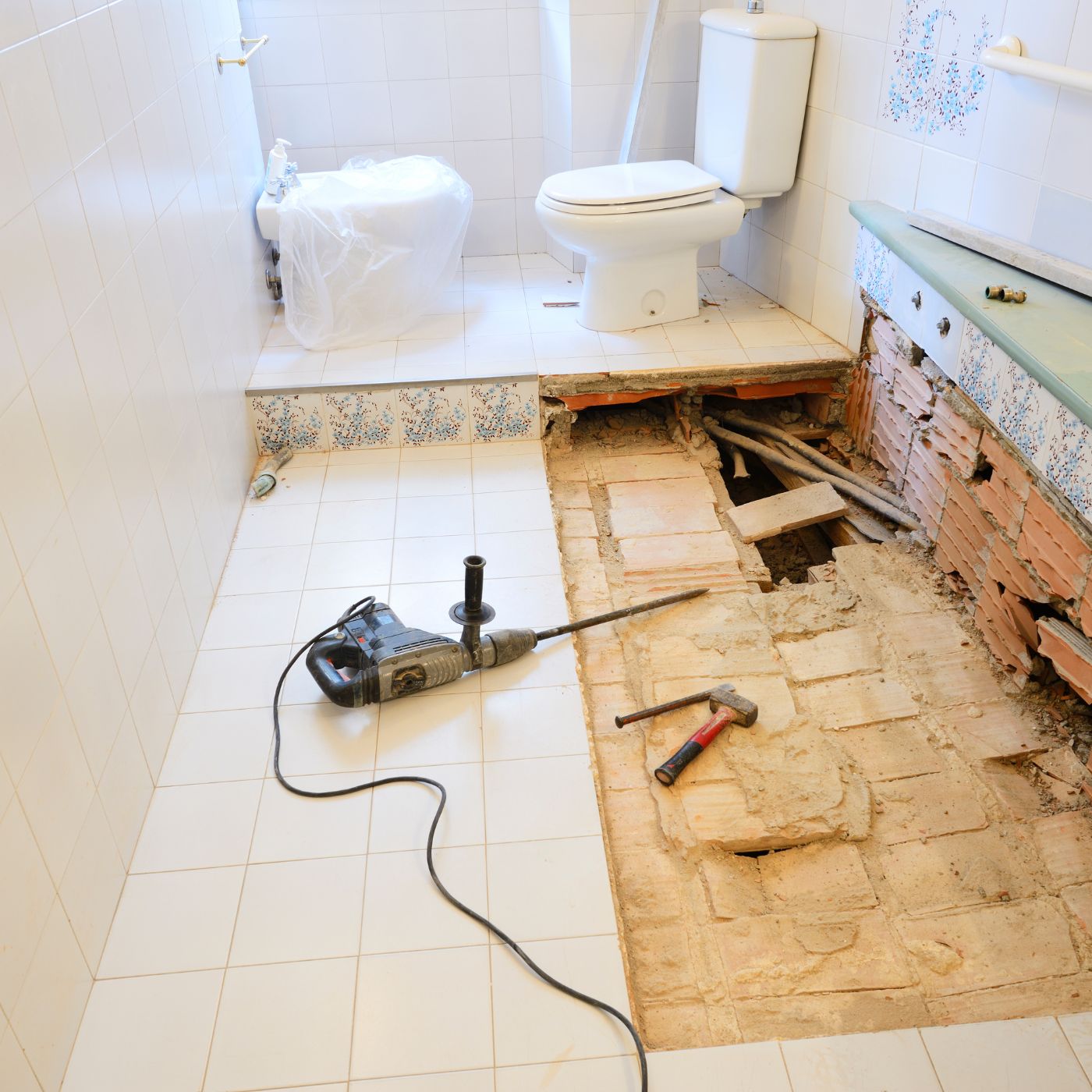 Why Choose us?
Experienced Professionals:
Our team consists of skilled and licensed professionals who have extensive experience in bathroom remodeling. We stay up-to-date with the latest industry trends and techniques to deliver exceptional results.
Customized Solutions:
We understand that every homeowner has unique preferences and requirements. We tailor our services to your specific needs, ensuring that your bathroom remodel is personalized and reflects your individual style.
High-Quality Materials:
We believe in using only the finest quality materials and products for our projects. This commitment to quality ensures that your bathroom remodel will not only look stunning but also stand the test of time.
Timely Completion:
We understand the importance of completing projects on schedule. Our efficient team works diligently to ensure that your bathroom remodel is completed within the agreed-upon timeframe, without compromising on quality.
Customer Satisfaction:
Customer satisfaction is our top priority. We strive to exceed your expectations by delivering exceptional service and a finished product that you'll love. Our team is dedicated to ensuring your complete satisfaction throughout every step of the remodeling process.
Contact us today to schedule a consultation and begin your journey towards a beautiful new bathroom. We look forward to working with you to create the bathroom of your dreams in Oklahoma City!